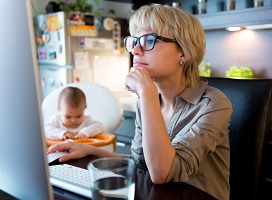 Nobody really likes spring cleaning, but it's a great opportunity to kick off the season and start fresh — whether it's cleaning out the garage or changing air filters to get rid of winter dust. Digital spring cleaning may not be on the list, yet.
When was the last time you cleaned the unnecessary junk off of your computer? Or backed up important files? Or updated software? Dedicate an afternoon to cleaning up your tech in the midst the other spring chores.
Get started with a few of the following ideas.
Give tech devices a literal spring cleaning. Like everything else, electronics get dirty. But most people aren't going to take a kitchen sponge to their laptop, for good reason. Instead, use the pre-moistened Windex Electronics Wipes to safely clean electronics, including TVs, laptops, smart phones, tablets, gaming consoles, cameras and keyboards.
Equip your mobile products with antivirus security. The majority of computer owners use some form of antivirus or malware protection, but fewer think about smartphone or tablet security. Software like ESET Internet Security supports PC, Mac and Android devices so users can safely surf, shop and socialize online, no matter what device they're using.
Time to upgrade? Sometimes cleaning really means replacing. So consider the age of your tech: if the device is more than three years old and you didn't buy "top of the line" in the first place, you may want to consider a replacement. Tech devices, like computers, are machines. It's not a matter of if they will break, it's a matter of when they will break. Also, since technology changes and advances at an astounding pace, replacement can give you not only more speed, it can also get you cool new features and capabilities.