My Dearest Angela,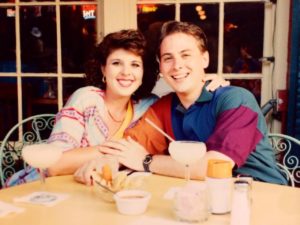 As I was standing in the greeting card section of the grocery store a couple of days ago, I just couldn't find a card that could adequately express the love that I feel for you. It needed to be really special in order to honor our 25 year of marriage. So, I decided to write you a letter instead.
I was remembering back when we were still dating and how we would look into each other's eyes and talk about the future and growing old together. Of course, we had no idea what that meant, but we knew we had our whole lives to figure it out. Now, here we are, (not too old yet!) twenty five years later, still in love, still happy, and still wanting to walk the journey of life together. Do I say it often enough?–I love you! Thank you for loving me back and being my beautiful and wonderful companion for the last twenty five years (thirty if you count dating). That's 300 months, or 9,125 days, or 219,000 hours, or 13,140,000 minutes–every moment a blessing.
I started trying to list the reasons I love you, but it was becoming overwhelming to consider the multitude (yes, really). Let me just say I love you for your smile, and your generous and giving heart. At the end of a hard day, I have always looked forward to seeing your happy face. Even your eyes seem to smile–those happy creases at the corners. I love you for your love of learning and for instilling into our children an appreciation of good books and a love for reading. I love you for putting our marriage and our family first. It seems that you regard no sacrifice as too much. Thank you for loving me and putting up with me.
The years have made you beautiful. I know that we both have felt a little distressed when we look in the mirror and say to ourselves, "Oh, that's new." But to me you will always seem young, vibrant, and desirable as the day I fell in love with you. Twenty five years ago, I had no idea that I would marry a woman that would become more beautiful to me as time passed. And that is the way our love goes: it grows more beautiful with each passing day. We have been through so much together. I know we can weather the years ahead, because we are one and we are united with a bond that can never be broken.
I know that the great poets have struggled to pen words that adequately describe this kind of love. In the end they discover they fall painfully short. And so do I. Please accept this poor attempt as my expression of undying love and devotion. Thank you for being all that you are.
"And I'd choose you; in a hundred lifetimes, in a hundred worlds, in any version of reality, I'd find you and I'd choose you." ― Kiersten White, The Chaos of Stars
Happy Anniversary!
Always and Forever,
Keith